Tokyo Gig Guide
BUY NOW
FUJI ROCK FESTIVAL 2018
07.27 (Fri) 09:00 to 05:00
Rock

N.E.R.D

サカナクション

Post Malone

Albert Hammond Jr.

Odesza

Years & Years

エレファントカシマシ

go!go!vanillas

GOMA & The Jungle Rhythm Section

ハナレグミ

HVOB

jizue

Jon Hopkins

Let's Eat Grandma

MAC DEMARCO

Marc Ribot's Ceramic Dog

My Hair is Bad

Ovall

PARQUET COURTS

Peggy Gou

Straightener

TAKKYU ISHINO

The Teskey Brothers

tUnE-yArDs

ROUTE 17 Rock'n'Roll ORCHESTRA(feat. 仲井戸"CHABO"麗市、甲本ヒロト、奥田民生、トータス松本)

MONGOL800

GLIM SPANKY

ミツメ

neco眠る

Ichiro Yamaguchi

gnkosaiBAND

RABIRABI+沼澤尚+内田直之

FU-CHING-GIDO

アトミック・カフェ トーク【津田大介・星田英利】

Upendra and friends plus Mr. Sunil and Tilasmi

THE FISHBONE SOUND CLASH!!! DR MADD VIBE MEETS PHD FISH

Nathaniel Rateliff & The Night Sweats

DJ ASTRO BLACK

KAZ SUDO a.k.a 須藤カズヒロ (Caribbean Dandy/Zoot Sunrise Sounds)

Esne Beltza

CARIBBEAN DANDY

MARTINEZ FAMILY WITH JOSSELIO

苗場音楽突撃隊

outside yoshino

ZOMBIE-CHANG

Wool&The Pants

Interactivo

Hothouse Flowers

ほぼ股下90cm

Nick Moon

mei ehara

RAY BARBEE

Riki Hidaka

ZAMIANG

濱田大介

ハンバート ハンバート

ヨガワークショップ/BASEWORKS

Big Willie's Burlesque

Rancho Aparte

高田漣

佐藤タイジ&華純連

MASAYASU

ASANO TADANOBU

The SAMOS

FUNKY GONG

真鍋 大度

曽我部恵一

SUGIURUMN

JIM WEST - Jim's Vinyl Nasium

サラーム海上 Salam Unagami

DJ GONCHAN and friends

ChontaDJ

CUMBIA KID

NAOKI IENAGA

SIM CASS

Mr.MOMIJI BAND

アトミック・カフェ 片平里菜《Guest:TOSHI-LOW、細美武士》

東京塩麹

底なしのバケツのようにざらざら

paionia

東郷清丸

突然少年

KEN ISHII

D.A.N.(DJ SET)

RORY PHILLIPS

Sapphire Slows

JAGZ KOONER

PYRATRIX CIRCUS

GOTH-TRAD

MUSHY

JACK BERRY

HAVANA DUB

JOEY JACKSON

UNFAIR DJ's
Naeba Ski Resort place
JAPAN / CHUBU
Yuzawa-cho, Niigata Pref.
Fuji Rock Festival 2018!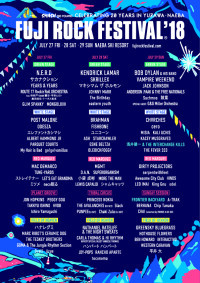 Ticket Rules & Regulations

General Admission ticket valid for 1 person's entry to the festival.

Admission free for children under the age of 15. Must be accompanied by an adult.

Shuttle bus service departing from the JR Echigo-Yuzawa Station to the festival is ¥500 per person. Return trip is free of charge.

Each Camp Site Ticket valid for 1 person's use of camp site during the festival period.

Tent or other camping equipment NOT included in camp site ticket price. Please provide yourself.

Please be sure to take your tent and or any camping equipment you bring back with you upon leaving the festival.

Parking tickets and Moon Caravan Tickets are not available for purchase.


Notes about ticket purchase

You may not change or cancel once you have placed your application.

Tickets must be purchased through official ticket outlets. Tickets purchased via outlets not listed on the official website are not valid.

Tickets purchased via invalid outlets are not guaranteed by the festival in any way and may not be honored.

Tickets will be exchanged with wrist bands at the Festival site. You cannot enter the site without the exchange.

After exchanging your ticket, the wristband will be the proof of your ticket purchase. Please look after it with care during the Festival period.

Tickets and wristbands will NOT be reissued under any circumstanstances. Please also note that those who lose their ticket and or wristband at the festival will be asked to leave the site or repurchase a ticket.

Ticket sales will finish once tickets are sold out. This applies to all ticket types.

Please be sure to read the rules and regulations before purchasing tickets


Fuji Rock Festival'18 official website:http://fujirock-eng.com


Fuji Rock Festival Rules & Regulations

These rules and regulations are subject to change without notice. Please note that ticket refunds will not be made for such rule changes regardless of how prior notification is made or lack thereof.

The festival will not be cancelled due to inclement weather (excluding natural disasters). Please note that ticket refunds will not be made due to artist cancellation.

Please be sure to sort all garbage into the appropriate bins. Please also take any leisure sheets, chairs, tents, etc., with you when departing the festival area.

Leaving chairs or sheeting, etc. unattended is prohibited in the festival. Unattended items will be deemed abandoned and removed and disposed of immediately. Be sure to carry all of your belongings at all times. Also, use of overly large leisure sheets to occupy large areas is prohibited.

Tenting, parasols and other items which may block the view of other festival goers are not permitted within the festival.

Please avoid excess drinking. Those deemed to be drinking excessively or out of control may be ejected from the festival site.

Any dangerous behavior that may harm other people, such as moshing and diving, is prohibited. The festival is not responsible for injuries and accidents due to such acts. Such incidents shall to be solved between the parties involved.

Use of umbrellas is prohibited on the festival site. Please carry and use foul weather gear during inclement weather.

Persons found to have entered the festival illegally will be reported to the police and will be put under the care of local police officials. The person will also be charged for compensation.

Please refrain from any behavior that can cause annoyance to local residents. Please do not travel to the festival by car without prior purchase of a car park pass.

Due to local regulations, people under 18 years must return to their accommodation by 11pm.

The final train departing Echigo-Yuzawa Station leaves before the festival performance finishes. All public transportation is unavailable after the last performances on all days of the festival.

Be sure to acquire transportation and/or lodging yourself before coming to the festival. (Sleeping outdoors at, around, or near the festival or Echigo-Yuzawa Station is strictly prohibited. Also, those who have not acquired a parking pass in advance are prohibited from parking at the festival.) Please also note that parking passes and lodging packages available at the on-site festival tour center are limited.

Animals, glass bottles, cans, fireworks, explosives and any illegal substances are not allowed into the festival site.

The production, the site and the artists are not responsible for accidents and thefts in and out of the festival site.

Those who cause any disturbances or do not follow instructions of staff will be ejected from the festival site. Tickets will not be refunded in this case.

You may bring cameras and/or video cameras into the site but it is strictly prohibited to record the artists. No sound recording equipment is allowed on the site. The use of selfie sticks are not permitted in congested areas, in front of the stages, and while moving between areas.

Agreement to the festival rules and restrictions is needed to purchase tickets. Please be sure to read and confirm all rules and regulations listed on the official website before purchasing tickets. Please note that purchase of festival tickets shall be deemed as agreement to all rules and regulations of the festival.

Please be sure to review all cautions and restrictions before purchasing tickets to the festival.
Event by FUJI ROCK FESTIVAL
SMASH
HOT STUFF PROMOTION
share
Pop-out