BUY NOW
KITSUNE FRIDAYS
KITSUNE 18th ANNIVERSARY
03.01 (Fri) 19:00 to 24:00
nu disco

DJ DEKKA(デッカチャン)

あやまんJAPAN

jbradz

USkey
dining & bar KITSUNE / sushi bar KITSUNE place
JAPAN / KANTO
B1 Chatelet Shibuya 2-20-13 Higashi Shibuya-ku Tokyo 150-0011 JAPAN
03-5766-5911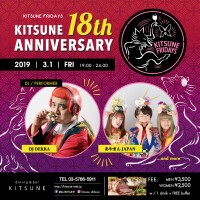 KITSUNE FRIDAYS | KITSUNE 18th ANNIVERSARY
DATE: March 1st, 2019 (Fri)
TIME: 19:00-24:00
CHARGE: M ¥3500 | W ¥2500 (Includes 1D + Free Buffet)
(Bring an event flyer or show the cover photo to this page to staff at the door for a ¥1000 discount)
DJs: DJ DEKKA, REN(BEDWIN), USKEY, Frankie $(HNH/N.O.S), Datwun(HNH), The Skips, jbradz + more TBA
PERFORMERS: AYAMAN JAPAN

To celebrate 18 years of KITSUNE us here at KITSUNE FRIDAYS will be throwing a birthday bash!
We appreciate your patronage over the last 18 years and here's to many more!
We have all the things that make this party great back to entertain us again, such as drag queens, tequila girls, dancers as well as performers from AYAMAN JAPAN as well as famous comedian DEKKA on the decks to get festive!
As always, come hungry and be prepared for a BUFFET of epic proportions!
Come by an experience a special event like no other, for one night only!!
share
Pop-out