BUY NOW
Matthew Herbert (マシュー・ハーバート)Japan DJ tour 2019 Tokyo
with Yoshinori Hayashi and 食品まつり a.k.a foodman
04.22 (Mon) DOOR: 19:00 START: 19:00
EDM / House

Matthew Herbert

Yoshinori Hayashi

食品まつり a.k.a Foodman
UNIT place
JAPAN / KANTO
B2F Za HOUSE Bld., 1-34-17, Ebisu-Nishi, Shibuya-ku, Tokyo
03-5459-8630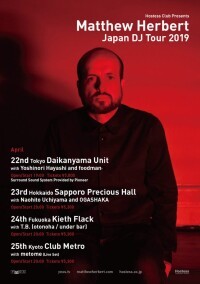 Born in 1972, Matthew Herbert is a prolific and accomplished musician, artist, producer, and writer whose work extends from numerous albums to Ivor Novello nominated film scores as well as music for the theatre, TV, games, and radio. He has performed solo, as a DJ and with various musicians including his own big band all around the world creating installations, plays, and opera.

He has remixed iconic artists including Quincy Jones, Serge Gainsbourg, and Ennio Morricone and worked closely over a number of years with musical acts as diverse as Bjork and Dizzee Rascal. He's been sampled by J Dilla for Slum Village and another of his pieces (Cafe de Flore) inspired a movie by Jean-Marc Vallee (Dallas Buyers Club). He has produced other artists and released works alongside through his own label  – Accidental Records. His most celebrated work ONE PIG(1st of the `ONE`) was released in 2010. He is relaunching an online Museum of Sound and is the creative director of the new Radiophonic Workshop for the BBC. His debut play The Hush was performed at the National Theatre, his debut opera The Crackle at the Royal Opera House and he continues to work on projects for the screen as well as the stage.

After playing the HOSTESS CLUB ALL-NIGHTER at Summer Sonic in Japan as a resident DJ for 3 years in a row from 2015, he brought artists across Europe together for special shows in Japan in November 2017.
share
Pop-out