BUY NOW
Guitar Wolf & teto: July 7th Jump into the Milky Way!
07.07 (Sun) DOOR: 18:15 START: 19:00
Rock

ギターウルフ

teto
新宿 LOFT place
JAPAN / KANTO
B2 TATEHANA Bld 1-12-9 KABUKI-CYO SNJYUKU-KU TOKYO-TO
03-5272-0382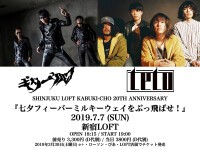 Celebrate rock & roll this summer on July 7th - the Japanese "Tanabata" festival and the 20th anniversary of Shinjuku LOFT Kabukicho.

World-class Japanese rock band Guitar Wolf is joined by up-and-comers teto for their first joint performance.
share
Pop-out